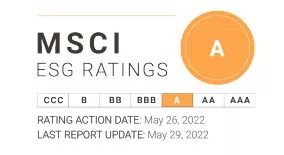 In May 2022 Plenitude received a Provisional ESG Rating A by MSCI.
MSCI Provisional ESG Ratings are intended to help investors understand the environmental, social and governance (ESG) profile of privately held companies preparing for a liquidity event. Ratings range from AAA (highest) to CCC (lowest). While based on the same MSCI ESG Ratings Methodology used to assess companies covered in MSCI's standard coverage, the term "Provisional" is important and is meant to denote that the MSCI ESG Rating may change if and when the issuer is added to standard coverage by MSCI ESG Research following the liquidity event.
DISCLAIMER: This website (1) may contain or reference a provisional ESG rating of an entity for which MSCI ESG Research LLC has been compensated, (2) is not intended to reflect or consist of any investment or financial advice, recommendation or promotion, including regarding credit decisions or decisions to purchase, hold or sell any securities or strategies, (3) is based in whole or in part on information (some of which may be non-public) provided by or on behalf of the entity, (4) may not be redistributed without the express written permission of MSCI ESG Research LLC, and (5) is subject to each of the additional provisions of the disclaimer located at: msci.com/legal/provisional-rating.
For additional information, please see https://www.msci.com/our-solutions/esg-investing/esg-ratings.